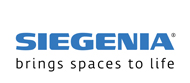 COMPANY NAME : SIEGENIA-AUBI HARDWARE FOR WINDOWS AND DOORS (SANHE) LTD.
Booth : 1K15
Brands : SIEGENIA
Product : Window hardware system、sliding door hardware system、door controls haraware system、intelligent air system、building technology
Company Profile : Established in Siegen, Germany in the year 1914, SIEGENIA-FRANK Company can beregarded as the leading enterprise producing the top-grade windows and doors as well as monocoque ventilators. In 1999, SIEGENIA Company merged another well-known metalproducts manufacturer AUBI from German Hubner Group. Since January 1st, 2003, the two companies officially merged into the SIEGENIA-AUBI Group. On July 31st, 2006, SIEGENIA-AUBI Group purchased the largest door lock hardware manufacturer in Europe--KFV Company, which has further expanded and perfected the product series. SIEGENIA-AUBI-FRANK Group has 6000 staffs in total in Germany with an annual turnover of 600 million Euros, becoming the largest producer in window and door metal products in Germany. Especially in the field of the aluminium-alloy hardware, SIEGENIA-AUBI Group has taken the lead in the German market.
Address : NO.3, YAN XIN STREET,YANJIAO,LANG FANG,HE BEI PROVINCE,P.R.CHINA
Website : www.siegenia.com
Countries & Regions Represented : 中国
Introduction to Headquarters :
Phone : +86-316-5998198